Library of Congress/Corbis/VCG via Getty Images
For as long as humans have had the desire to put down roots and build a home, there has also been the need to furnish those dwellings. Stone furnishings have been found in Skara Brae on Scotland's Orkney Islands, dating as far back as 3200 B.C.E.
Crafted goods like these have always served multiple purposes in homes across the world. Some pieces are built with a specific, practical function in mind—which unfortunately tends to render them obsolete when those functions are no longer necessary. Items like telephone tables and smoking stands, which were highly fashionable in the first half of the 20th century, have now all but disappeared from contemporary homes.
In addition to its functionality, furniture can also contribute to the style or decor of a space. Secretaire bookcases, for example, provided the benefit of both storage space and a convenient work surface. More elaborate versions, like the Louis XVI style, also featured inlaid wood designs and fine marble tops, elevating them to statement pieces in 18th-century French homes.
Sometimes trends cycle back decades later, but often pieces of furniture disappear to make way for something that suits the needs of the era better. Living Spaces curated a list of 10 such pieces of furniture that were once popular but are no longer prevalent in modern homes, using information from various sources.
Keep reading to learn more about the purpose of these classic pieces, what made them so coveted in their heyday, and what eventually caused them to go out of style.
Telephone tables and benches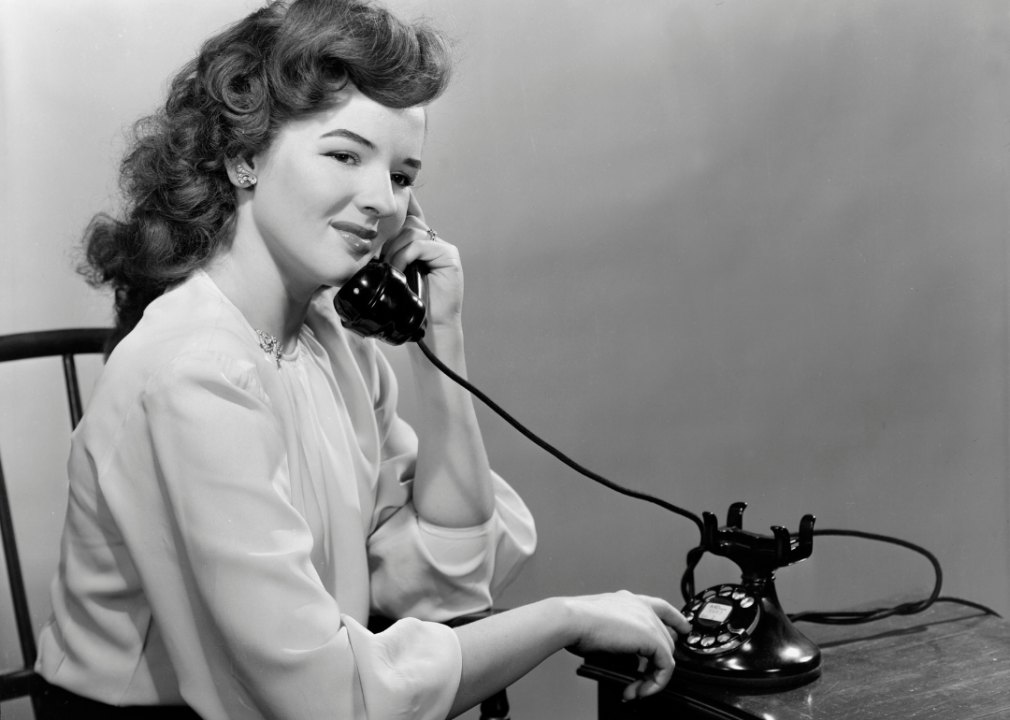 SSPL // Getty Images
When the telephone was patented in 1876, early models were ungainly and, combined with the need for telephone books, required special tables where these could rest. As they became more common in households between the 1930s and 1950s, telephone tables also grew in popularity as decorative and functional furniture pieces.
These tables then evolved into telephone benches, often called "gossip benches," featuring a table connected to a chair that allowed users to rest comfortably when chatting on the phone for longer periods of time. Many also included a shelf or drawer that served as a handy place to store notepads and pens for taking messages.
Over the years, cellphones have all but replaced home phones—in 2022, nearly 3 out of 4 American adults had no landline in their home—rendering telephone tables and benches obsolete. Still, some argue that these furniture pieces could provide a designated place for storing and charging cell phones, as well as encourage users to put down their portable devices and take a break from screen time.
Smoking stands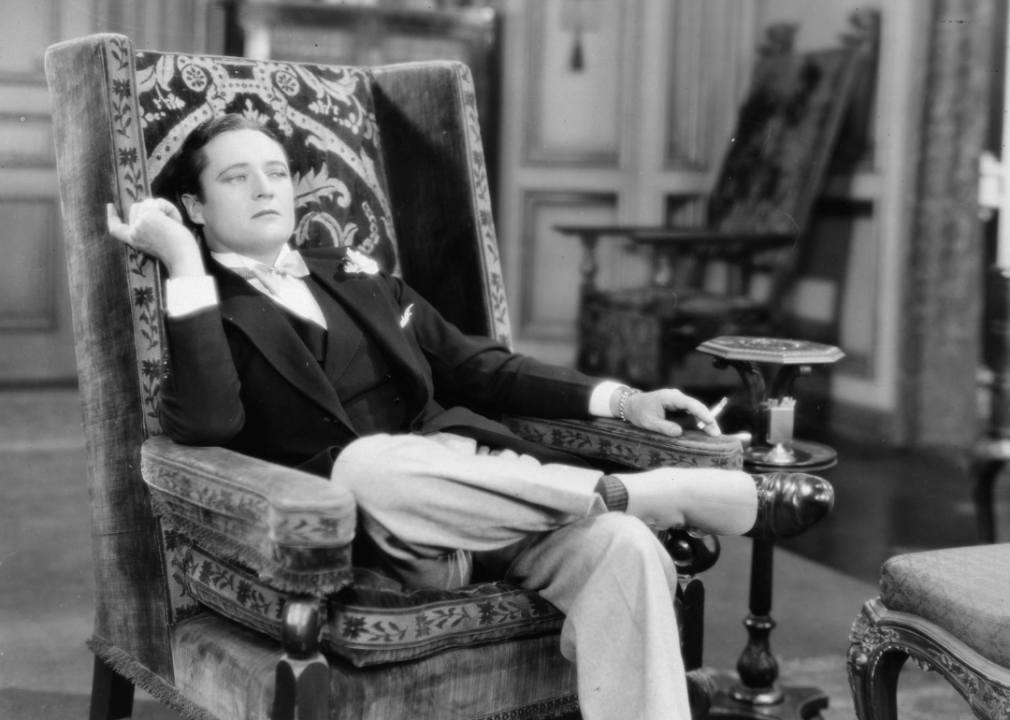 Hulton Archive // Getty Images
Smoking stands were first introduced in the U.S. around the turn of the 20th century. As Americans began smoking more and more throughout the first half of that century, they provided a convenient place to store all the necessary implements.
Styles ranged from simple to decorative, using wood veneers or painted finishes to create a more high-end look, but all smoking stands provided a place to keep key items like tobacco and cigar scissors. Most also featured a removable ashtray, making them the perfect accessory to place beside a comfortable chair to create a smoking area in the home.
These stands became particularly desirable during the Great Depression because they were more reasonably priced than larger furniture pieces, making them an affordable option for middle-class consumers.
The popularity of smoking stands began to fade into the second half of the 20th century—likely influenced by the first surgeon general's report in January 1964, which detailed the health risks of smoking—and by the 1970s, they were no longer in production.
Dumbwaiters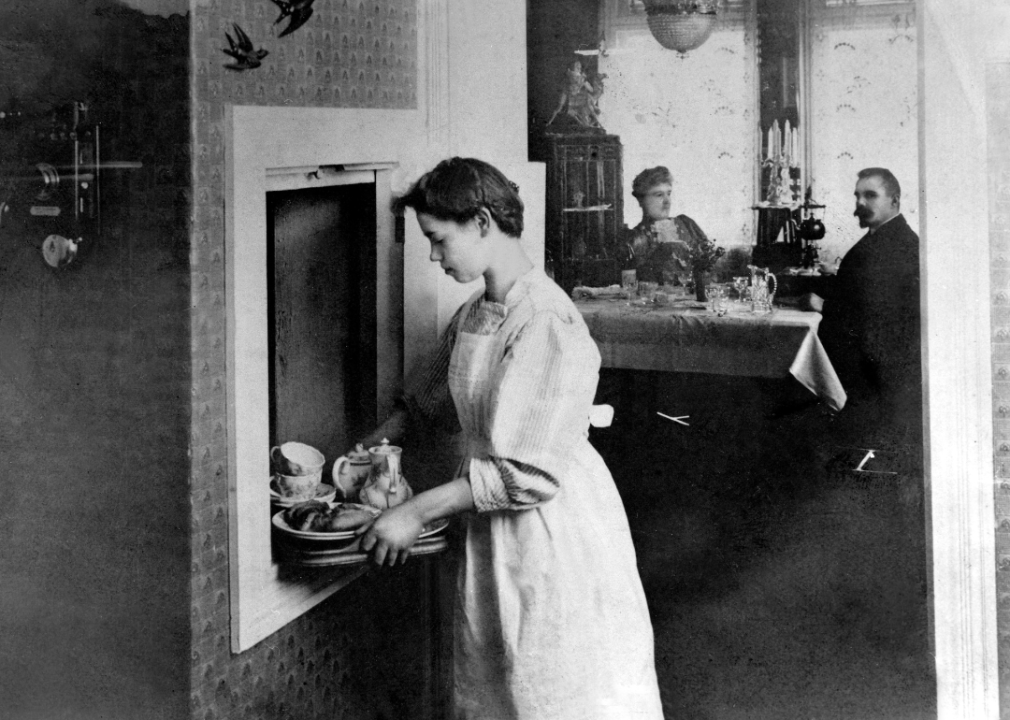 ullstein bild/ullstein bild via Getty Images
Dumbwaiters have a long and storied history and have taken on various forms depending on the era. In early 18th century England, dumbwaiters were simply multitiered tables that held plates and silverware that could be placed near a host.
When he became the third president of the United States, Thomas Jefferson also brought with him the idea of dumbwaiters from across the Atlantic, but in different forms. He used five of these serving stands strategically placed around the room to avoid the need for staff who might overhear and then repeat confidential information.
At Monticello, Jefferson installed dumbwaiters on either side of the fireplace mantle in his dining room. Operated on weights and pulleys, these were sized for wine bottles and could speedily bring a bottle up when needed. Jefferson also had dumbwaiters in the form of revolving doors with shelves. When food was ready to be served, it would placed on the shelves and turned to the room with guests waiting.
The first patent for a dumbwaiter was secured by American inventor George W. Cannon in 1883. His model acted like little elevators carrying food and was popular in the brownstones of New York City.
As households became less formal in the 20th century, these serving tables ultimately fell out of fashion.
Priscilla sewing cabinets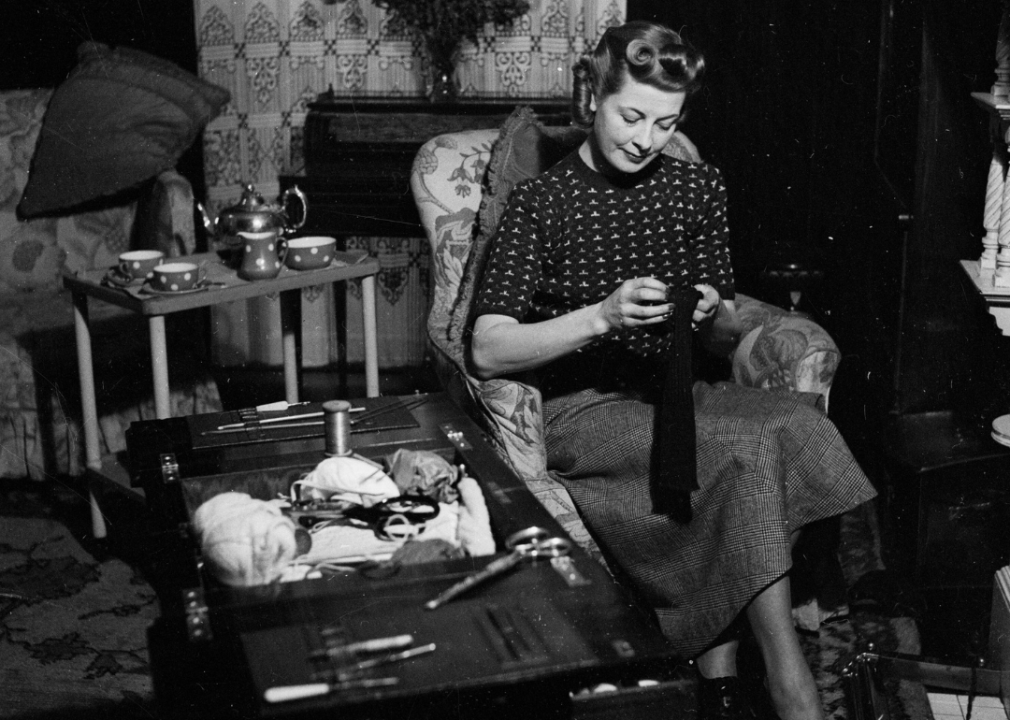 Chaloner Woods // Getty Images
Priscilla sewing cabinets, named after both a popular sewing machine and women's magazine of the era, emerged in the 1920s as a replacement for the larger Martha Washington sewing cabinets. This new model with a hinged lid was lighter and focused on functionality. It was used to conveniently store sewing supplies.
Much like smoking stands, these cabinets were quite popular during the Great Depression, as they were an inexpensive furniture option during a financially difficult time. The fad didn't last long though. By the late 1940s, these cabinets were off the market.
Secretary desks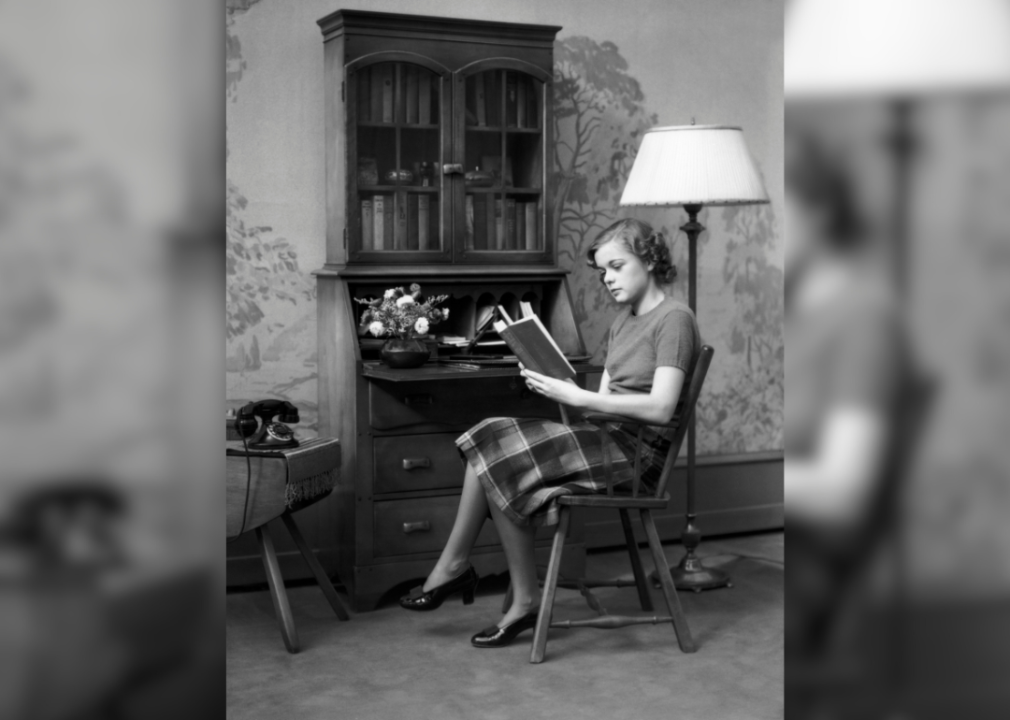 H. Armstrong Roberts/ClassicStock/Getty Images
Secretaires, also known as secretary desks, were first seen in France during the mid-1700s. Although they varied widely in style and price—from elaborate 18th-century Chippendale models to the clean lines of mid-century modern design—each one had similar features. The top half had shelves, and the bottom half had larger drawers or cabinets for storage. In the middle, a drop-down writing surface hid smaller cubbies used to hold pens, paper, and other desk items.
As letter writing fell out of fashion and styles moved towards more minimalist decor, secretaires have grown scarcer. There has been some resurgence with the increase of people working from home in recent years, but the small desk surface makes these pieces better repurposed as home bars or display cabinets.
Washstands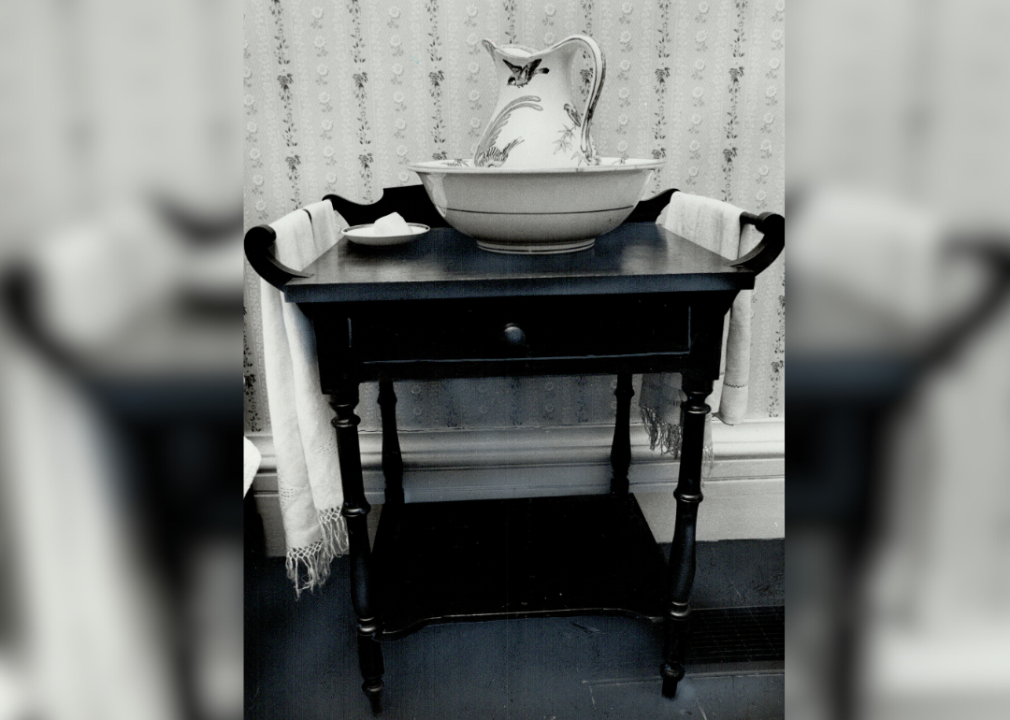 Dick Loek // Toronto Star via Getty Images
It is difficult to know exactly how long washstands have been around, but the use of basins for washing dates back at least to ancient Greece and Rome. As early as the 1500s, the wealthy began using wooden stands to hold these basins, along with pitchers of clean water for cleansing their hands and faces.
Although they were primarily functional pieces, requiring just a surface to hold these items on top along with cabinets or drawers for storage below, some washstands featured fancier marble tops and intricately carved details. Their popularity continued to grow during the 1800s and into the 1900s. However, washstands were ultimately rendered unnecessary as indoor plumbing became more common in the U.S. during the 20th century.
Despite this, some antique collectors still enjoy repurposing these pieces as decorative tables in their homes today.
Hope chests
DEA / FI ZECCHI ANTIC // Getty Images
Hope chests—originally known as bridal trousseaus—were introduced in Italy during the 1400s as beautifully carved containers that women used to store and save items for their future married lives. These chests were filled with everything from household items like sheets and dishes to more personal items like lingerie and clothing.
The term "hope chest" was coined by Lane Furniture Company as their cedar chests became highly desirable after World War I, and these iconic pieces remained in production through 2001.
The use of hope chests declined throughout the second half of the 20th century. However, similar chests are still used for storage, and some Amish communities maintain the tradition of gifting them to newly married couples.
Antique collectors should be careful, however, as millions of Lane cedar chests were recalled in 1996 due to safety issues with children being trapped inside and no way to unlock the chests from within.
Teapoys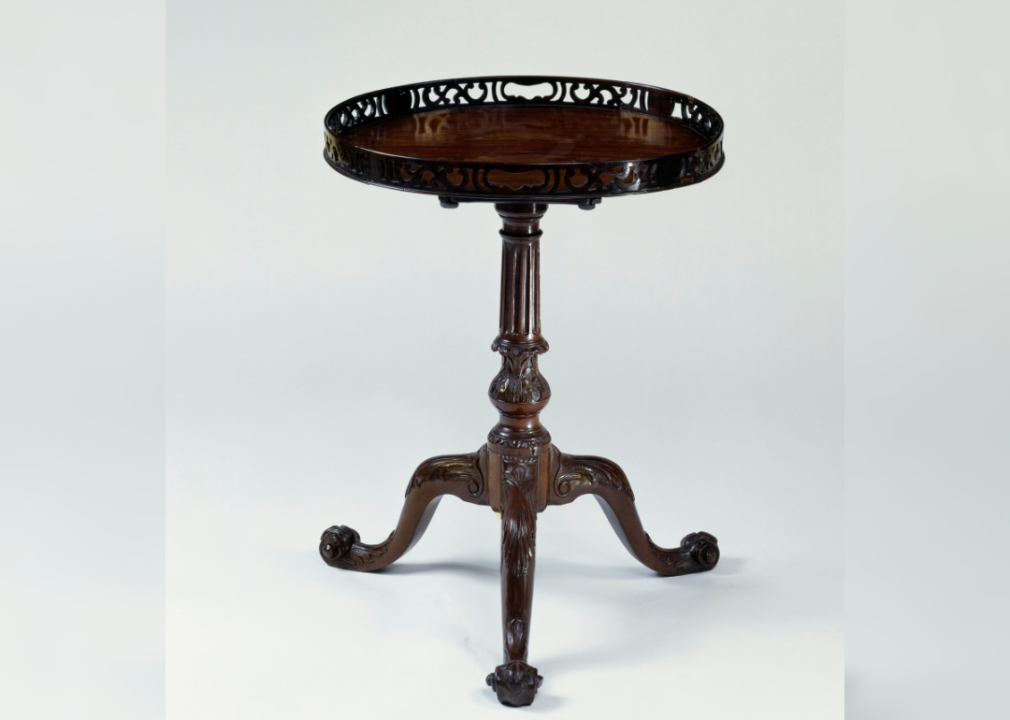 DeAgostini // Getty Images
As tea became more accessible and popular throughout England in the 1600s, the beverage was still no small expense, so tea caddies became a common way to store tea leaves while keeping them safe from plundering hands.
Over time, these caddies grew larger to provide more storage until eventually an entire stand was developed for this purpose. Teapoys draw their name from Hindi and Persian words meaning three-footed. They were small tables with a tea caddy perched atop three—or sometimes four—legs.
These pieces were not just functional but also served as status symbols, made of the finest wood with intricately carved legs and hand-painted detail or soft velvet lining the storage compartments.
Over time, as elaborate tea parties went out of fashion and loose-leaf tea was largely replaced by less expensive tea bags, teapoys were no longer needed and gradually disappeared from homes.
Clothes presses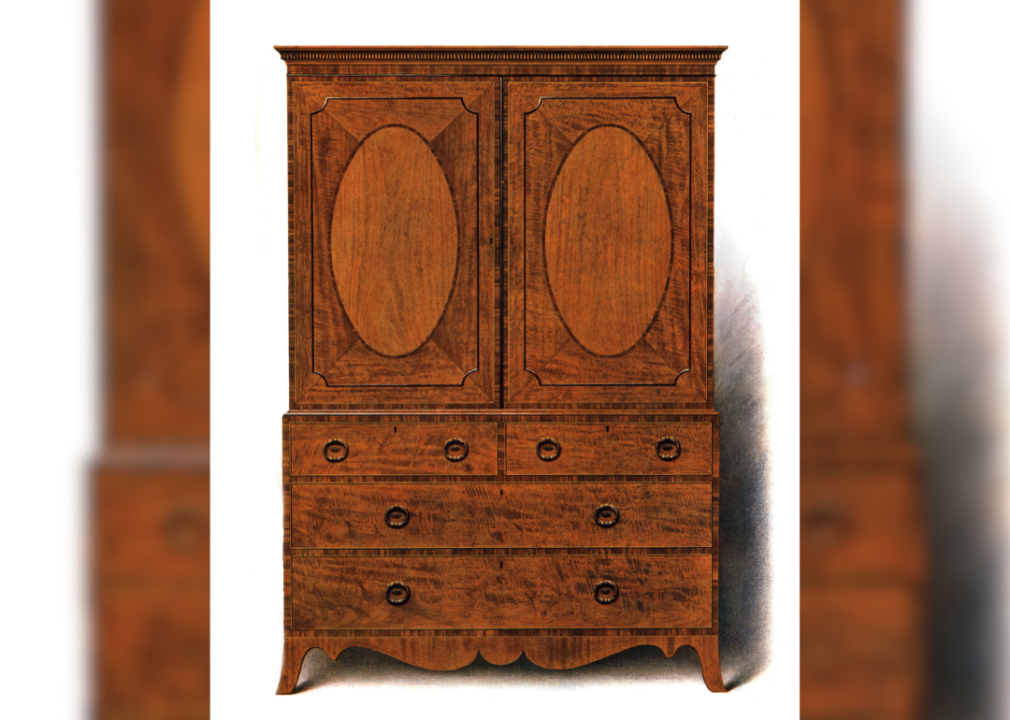 The Print Collector // Getty Images
According to Merriam-Webster, the term "clothes press" was first used in 1713 to describe a large cabinet made to store folded clothing. This emphasis on storing folded, rather than hanging, items appears to be the greatest difference between these cabinets and other more commonly known pieces like armoires and wardrobes, though these terms are frequently interchanged.
Popular throughout the 18th century, clothes presses included shelving and even sliding trays where apparel could be carefully folded and stored. No one likes their clothes to be wrinkled or creased, though, so clothes presses disappeared over time, and the term was relegated to a set of shelves within larger wardrobes or armoires.
Even wardrobes and armoires have gone out of fashion in recent decades. Most contemporary homes feature built-in closets, and people often mount televisions on their walls or use smaller consoles, making these bulkier pieces unnecessary.
Pie safes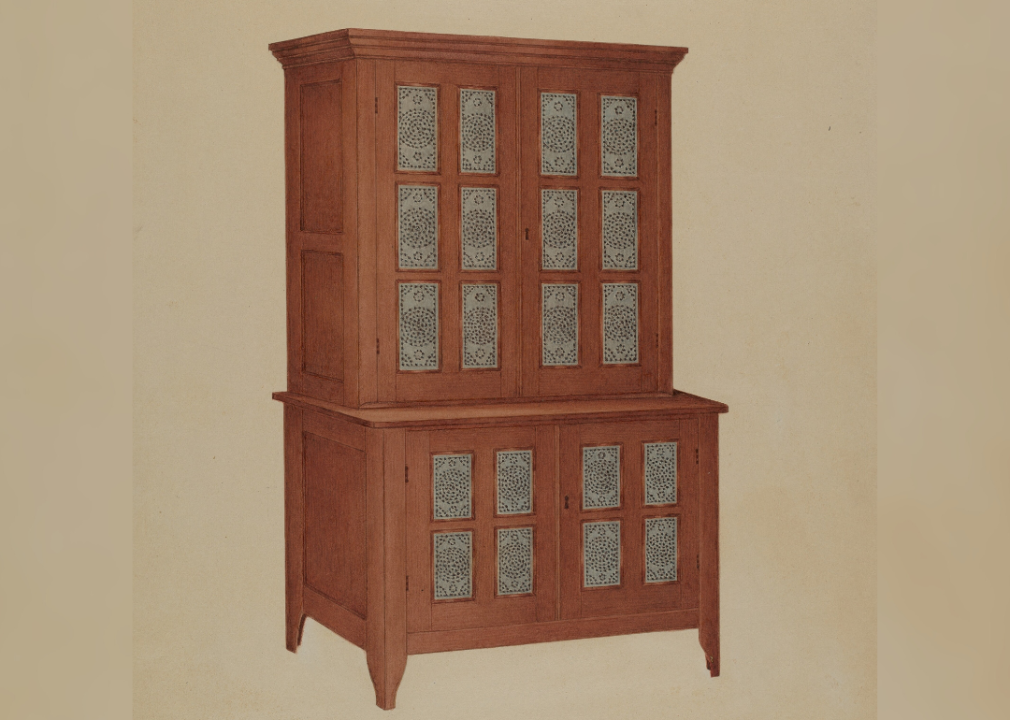 Heritage Art/Heritage Images via Getty Images
Pie safes were invented for exactly the reason the name implies: to provide a safe place to store pies.
Before the invention of iceboxes and refrigerators, these cupboards offered a protected place to keep bugs and other critters away from perishable food—not just pies but also items like bread and meat. Pie safes were generally simple pieces made of wood with inlaid tin panels punched with holes, providing a decorative design while allowing ventilation for the food stored inside.
They were popularized by German immigrants living in Pennsylvania during the 1700s, but as the 1800s brought about the invention of iceboxes and the 1900s introduced built-in kitchen cabinets, pie safes were rendered obsolete.
The design remains popular with Amish woodworkers, however, and some homes still incorporate these rustic pieces for storage and aesthetics.
Story editing by Carren Jao. Copy editing by Tim Bruns. 
This story originally appeared on Living Spaces and was produced and distributed in partnership with Stacker Studio.